Mosaic is the art of composing an artistic image with a set of any colored material, known for thousands of years. Today mosaic is widely used in interior decoration, however, we sometimes do not notice the best examples of this delightful art, hurrying to do our business … And sometimes you should look around or just look under your feet. It's not for nothing that Italian Renaissance painter Dominic Ghirlandaio said: "Painting is drawing, and painting, designed for centuries, is a mosaic".
---
The word "mosaico" literally translated from Latin – opus, "musivum" means – work dedicated to muses.
It is no accident that people decorated temple buildings with the very first mosaics. The history of the mosaic dates back to the 2nd half of the IV millennium BC – the time when the buildings of palaces and temples of the first Sumerian cities of Mesopotamia were dated.
The mosaic there was made of burnt clay sticks-cones ("zigzags") 8-10 cm long and 1.8 cm in diameter, which were laid on the clay solution. The image was formed from the ends of these cones, which were usually painted red, black, and white.
The most frequently used geometric motifs: rhombus, triangle. An early example of the technique of inlay, or received the name in antiquity mosaic technique opus sectile, later developed in the technique of Florentine mosaic can be considered an artifact, tentatively called "Standard of Ur" (2600-2400 BC).
According to archaeological excavations, mosaic spatial, mainly utilitarian, ornaments were widely used in Ancient Greece. Deeply mosaic called art historians all the applied art of ancient Egyptian civilization.
One of the leading centers of mosaic art was the Roman Empire. The "direct dial" technique practiced here since ancient times was called Roman. Roman mosaics were laid out of small cubes (columns) of natural precious or semiprecious stone or smalt on a surface covered with a solution.
Pebbles and small stones were also used; in later times glass, bone, ceramic tiles and other materials were used.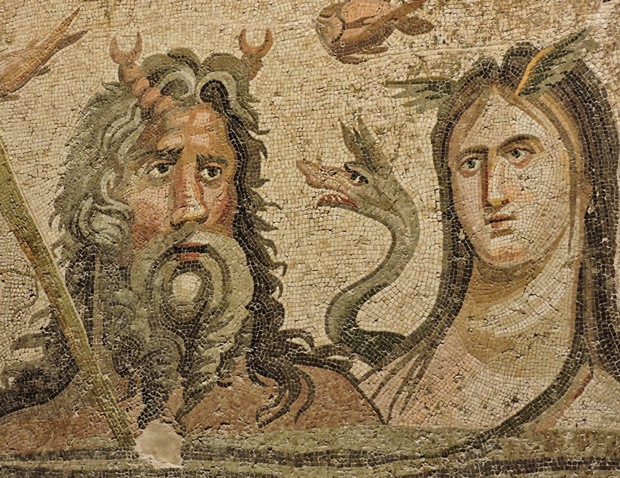 To VIII century B.C. early examples of the application of the technique of mosaics from raw pebbles, which formed one of the stages in the development of mosaic techniques and at its heyday called by the Romans scornfully opus Barbaricum (works of the Varavarians).
During excavations, ornamented pebble floors were discovered in Altyn-Tepe (Eastern Anatolia) and the palace in Arslan-Tash (Assyria). However, the richest monument is the pebble mosaics of Gordion (Anatolia). The first ancient mosaics of raw pebbles were found in Corinth and dated to the end of V century BC.
They are contour images of people, animals, mythological creatures, decorated with geometric and ornaments, usually made in white on black, stylistically close to the red-figure vase of Ancient Greece.
Similar specimens from the 4th century B.C. were also found in Olinth, Sikion, and Eretria. An important step towards realism was taken in the mosaics of Pella (end of IV century BC). And today, being somewhere in Cyprus, tourists first enjoy the surrounding scenery, sunny weather, sea, wonderful local food, and wines.
Sometimes even noticing that sea pebbles in different shades are often used here, both as souvenirs and as table rooms in numerous restaurants.
Then, wandering around the neighborhood, say, Paphos, they see small stones, different shades of pink or blue, right on the paths under their feet.
And then these very paths lead them to Dionysus' house, or rather to his ruins, which are more than 4000 years old, and here tourists see how the same colored unsightly stones are laid out in amazing paintings, looking at which you can to learn a lot about people's lives in times far removed from us.
Paper burns, fabrics decay, only stone witnesses of ancient epochs continue to live today … The blossoming of ancient mosaics falls on the Hellenistic era when there is a technique of pebbles and the colored glass becomes available, which allowed to achieve a picturesque realism of images and use the almost unlimited color scheme.
The most ancient monument, where the technique of pebbles or tessellation was used, are considered mosaics of the Sicilian city of Morganton (III century BC).
In Ancient Rome, floors, and walls of villas, palaces and baths were laid out as mosaics. Roman mosaics were made of small cubes of very dense opaque glass – smalt, which began to be produced with the development of glass production technology in Syria and Byzantium, but it was not uncommon to use small stones and pebbles. In the early Christian period, beautiful mosaics were created in Venice, Ravenna, Rome, and Florence.
Careful selection of shades of stone, the perfect combination of seams creates a stunning color of Florentine mosaic. By the end of the XVI century, the Florentine painting technique was fully formed and until today there are no special changes in it.
The mosaic was also known in Alexandria Egyptian. The masterpiece of the Egyptian mosaic is the throne from the excavations of Tutankhamun's tomb, where the pattern is made of precious stones.
Ancient Egyptian civilization has expanded the scope of the mosaic. Patterns from semiprecious, and sometimes precious stones ancient Egyptians decorated suits of pharaohs, furniture, household items.
In the creation of a mosaic, drawing began to apply special breeds of a tree and ivory. And yet the highest flowering of mosaic art can be considered the era of the Byzantine Empire. There the mosaic becomes more refined, it uses a finer module of stones and delicate masonry, the background of images becomes mainly gold.
Byzantine craftsmen placed gold foil under the smalt cubes at different angles, and thus achieved an amazing effect of flickering. Along with gold background, they used bright blue, green, yellow, red, and white colors.
Centuries later, the mosaic remains an actual contemporary art, unlimited in its possibilities, filling people's lives with beauty and harmony.
The luxury of eternal painting
Contemporary muralist artists often turn to mosaics, decorating interiors and exteriors of buildings. They still use natural stone, glass, smalt, wood, or marble. The mosaic art is revived as part of the decorative decoration of temples.
Today, two main types of the mosaic are widely used: Florentine mosaic, which is collected from thin layers of marble and colored ornamental stone (onyx, lapis lazuli, malachite, rhodonite, jasper), carved along the contour of the image, and Roman mosaic, which is made up of small cubes (modules) of smalt or stone.
Thanks to modern technology, Florentine mosaics are now performed using a laser or water-jet stone cutting, which significantly reduces the timing of the mosaic and its cost. The technology of the Roman mosaic has remained
practically unchanged since ancient times.
Centuries later, the mosaic remains an actual contemporary art, unlimited in its possibilities, filling people's lives with beauty and harmony. Thousand-year tradition comes alive today.
We suggest taking a close look at the daring architectural projects in the UAE and their artistic design. Beautiful "Florentine" mosaics adorn the Great Sheikh Zayed Mosque in Abu Dhabi, floors of Al Ghurair and BurJuman shopping malls in Dubai, as well as many hotels, including One&Only The Palm and Al Qasr, Madinat Jumeirah.
Roman" mosaics can be seen in the interiors of Burj Al Arab Hotel Sails in Dubai and Emirates Palace in the emigrant capital. Alternatively, if you go shopping at The Dubai Mall, the largest shopping mall, don't be lazy and take a look at The Village's denim section, whose promenade features brilliant examples of Roman-style mosaics.
Just keep your eyes peeled for signs and shop windows. At least for a while… And then you'll enjoy exploring other buildings and temples in the UAE and elsewhere that you'll find in your daily life and decorated with this beautiful unfading art.
Once you've passed the test of time, the mosaics return to modern life. It remains to be hoped that contemporary masters will preserve and enhance the fragile, graceful yet timeless beauty of the art of eternal painting.