The artist Dante Gabriel Rossetti had a thing about women with long hair – and his first mistress, Fanny Cornforth, had it in abundance. A watercolour portrait coming up for sale at a Sotheby's auction celebrates her beauty, but the final oils version of the scene was her greatest humiliation – it had her face painted out and replaced with that of another model.
"Poor Fanny, it is a story that really makes you feel for her," said Simon Toll, a specialist on Victorian art at Sotheby's. "It was unforgivable of Rossetti, but you're a young artist, the patron wants something and you need a bit of money, you do what he asks."
Rossetti himself wrote to his friend and fellow artist Ford Madox Brown saying "to be an artist is just the same thing as being a whore, as far as dependence on the whims and fancies of individuals is concerned".
Unlike some of the beautiful working-class women picked up by the pre-Raphaelite artists as models and muses, Cornforth, a blacksmith's daughter, was neither softly spoken nor meek. She became Rossetti's housekeeper, but his family and friends despised her and, as she became more plump, nicknamed her "the Elephant".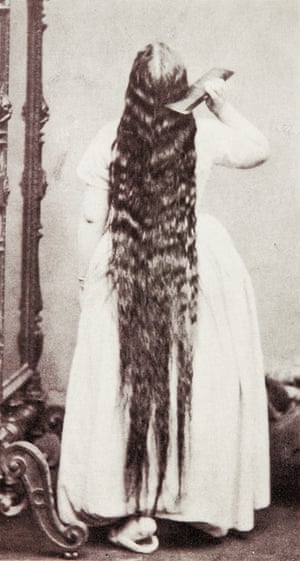 The painting portrays Cornforth as Lilith, in mythology the first woman made from the same clay as Adam, before Eve was made from his rib. The poem written on its original frame – another copy, in Rossetti's own handwriting, is pasted on to the back – describes her luring men "to watch the bright net she can weave, the heart and body and life are in its fold".
In 1864 Rossetti began the oil painting, now in the Delaware Art Museum, for one of his most valuable patrons, the shipping magnate Frederick Richards Leyland. He didn't like Cornforth's face and insisted it be changed. Rossetti scraped it off the canvas and replaced it with the features of Alexa Wilding, another model, who, unlike the opinionated Cornforth, was said to be so dull that Rossetti wished he could shut her up in a cupboard when not painting her.
"Poor Fanny need never have learned about the substitution, but of course his friends – probably his studio assistant Henry Treffry Dunn who detested her – went out of their way to make sure she learned of it," Toll said.
According to Cornforth's version of the story, when Rossetti admitted what he had done, "he wept until the tears ran through his fingers, and said 'I cant do it over again, and you are not what you were'."
His original vision survives in two watercolour versions he had already made for other patrons, of which this is the last in private hands. Rossetti painted it for Alexander Shannan Stevenson, a northern industrialist who went to London in 1867 to buy paintings for his Tynemouth house, and saw Lilith in Rossetti's studio. He couldn't afford the oil painting at £500, so instead the artist painted him the watercolour for a bargain £150.
Cornforth, whom Toll believes was Rossetti's first lover, set the type for his dreamy maidens with super-abundant hair. A contemporary photograph shows her combing tresses which almost touch the floor, and at their first meeting Rossetti is said to have unpinned her hair in a restaurant, which would have been seen as a shockingly intimate gesture.
The novelist Mrs Gaskell recalled a meeting with Rossetti in 1859: "It did not signify what we were talking about or how agreeable I was: if a particular kind of reddish brown, crepe wave hair came in, he was away in a moment, struggling for an introduction to the owner of the said head of hair."
When Rossetti died in 1882, aged 53, his family kept Cornforth from the funeral. She got her revenge in a series of sales, including opening a pop-up Rossetti gallery on Piccadilly, of memorabilia and small works of art, which she claimed he had given her: the family suspected, but couldn't prove, that she had stolen them.
Cornforth's ultimate and tragic fate was recently traced by the art historian Kirsty Stonell Walker, who found the unmarked common grave where she was buried in 1909 Her daughter-in-law had committed her to an asylum.
The painting, owned by private Japanese collectors since 1988, will be auctioned at Sotheby's in London in July. It is estimated it will fetch up to £600,000.