Next weekend, almost 80 galleries will be participating in the inaugural Gallery Weekend Los Angeles, a five-day series of performances, talks, and exhibitions taking place throughout the city. Meant to celebrate the experience of seeing art in-person, the event is organized by Gallery Association Los Angeles (GALA), a collection of Los Angeles-based galleries that banded together last year during the early days of the pandemic to provide an online showcase for the city's vibrant art scene. The result was GalleryPlatform.LA, a site that features rotating viewing rooms as well as editorial content, offering a way to connect with collectors, curators, and art lovers at a time when physical art spaces had to remain closed.
Now that restrictions are loosening somewhat, GALA has organized its first in-person event, billed as the first in an annual summer tradition highlighting the breadth of LA's rapidly expanding gallery sphere.
"Gallery Weekend was initiated to reconnect art audiences with galleries and their in-person programming, so we hope there is a sense amongst visitors and locals that the core life of a gallery is in the exhibitions they stage and all the other activity runs off of this," Olivia Barrett, founding director and owner of Château Shatto told Hyperallergic via email.
Participating galleries include long-time LA institutions like LA Louver and Regen Projects, more recently arrived international powerhouses Hauser & Wirth and Sprüth Magers, alongside a crop of smaller homegrown spaces such as Commonwealth & Council, Wilding Cran, Parker Gallery, Residency, and Band of Vices. A selection of nonprofit and alternative spaces will also take part including 18th Street Arts Center, LAXART, Los Angeles Contemporary Exhibitions, Human Resources, and the Canary Test.
To better manage LA's sprawling terrain, the organizers have divided the city into four regions: West, North, Central, and East. Although galleries will be open throughout the event, four "community days" will each feature programming and extended hours in a different area, beginning with the Westside on Wednesday, July 28, and moving eastward to conclude on Saturday, July 31.
Exhibition highlights include:
Programming highlights include:
A conversation between artist Raul Guerrero and Pilar Tompkins Rivas, chief curator and deputy director of curatorial and collections at the Lucas Museum of Narrative Art, on July 30 at 5pm at David Kordansky Gallery. The two will discuss Guerrero's current show at Kordansky, Fata Morgana, which explores the histories and fictions embedded in specific locations such as the Black Hills of South Dakota or contemporary Los Angeles, and how these relate to the artist's own Mestizo ancestry.
Various Small Fires and artist Sean Raspet will throw a plant sale with coffee and donuts on July 31 from 10am to 1pm in conjunction with his exhibition featuring new plant varieties mutated via radiation.
Curators Mika Yoshitake and Kris Kuramitsu will discuss "Borders and Identity" at Blum & Poe on July 31 at 2pm in conjunction with Japanese artist Yukinori Yanagi's first major US retrospective featuring work that confronts nationalism, war, and incarceration with technical precision and dark humor.
Regen Projects and Phaidon Press will host a book release for photographer Catherine Opie at the artist's studio on July 31 at 5pm.
LA's oldest and newest art fairs, the LA Art show and Felix respectively, will also be taking place during the same time, offering a critical mass of in-person art events showcasing both Angeleno artists and art spaces. "I hope that Gallery Weekend helps visitors and locals appreciate that Los Angeles is not just an arbitrary backdrop for our programs," Barrett said. "Our galleries are shaped by the forces that are specific to this city, both the encouraging conditions here in LA and the more challenging ones."
Frieze Viewing Room, Los Angeles Edition
27 July – 1 August
The Los Angeles edition of the Frieze Viewing Room brings together galleries from Los Angeles and around the world. Running concurrently with Gallery Weekend, the initiative will offer a city-wide program of events and activations for Frieze members and audiences. New to the Viewing Room is a new section dedicated to digital art, curated by Venus Lau and featuring commissions by artists Liu Chuang, Nik Kosmas, Peng Ke, aaaajiao and Lu Yang. The works will be available for purchase as NFTs and will be delivered on RNDR, a blockchain GPU computing and 3D marketplace developed by pioneering Los Angeles-based company OTOY. In addition, the Frieze Viewing Room will feature 47 leading galleries including LA-based Blum & Poe, Château Shatto, Jeffrey Deitch, Kayne Griffin, David Kordansky Gallery, L.A. Louver, Regen Projects and Various Small Fires (VSF), as well as major international exhibitors, Gagosian, Hauser & Wirth, Karma, Lehmann Maupin, Nara Roesler, Thaddaeus Ropac, Venus Over Manhattan and White Cube. Bringing these galleries together, the platform reflects the vibrant cultural landscape of Los Angeles.
Pia Camil
Blum & Poe
17 July – 14 August
During the worldwide shutdowns prompted by the COVID-19 pandemic, Mexico City-based artist Pia Camil relocated with her family to find solace in the Mexican countryside. There, she became entranced by the complex architecture of termite nests: massive, intricate mounds of dirt built collectively by colonies of insects. Inspired by these tremendous structures, Camil created 'Nidos' (Nests, 2021), a series of sculptures made from cement and recycled newspaper in the likeness of these termite dwellings. Camil's 'Nests', however, are painted in solid, vibrant colours – red, purple, turquoise, etc. – and feature tiny apertures showcasing different photographic images from newspaper clippings that, removed from their original context, are here impregnated with new meanings and associations. Alongside these strange, beautiful monoliths is a series of works of paper – 'Nudos' (Knots, 2021) – colourful swirls in oil stick and clay that hark back to the sinuous pathways made by these arthropods. Together, the series present a kind of collective practice in storytelling, in which Camil ruminates on ideas of communal living through the language of the natural world.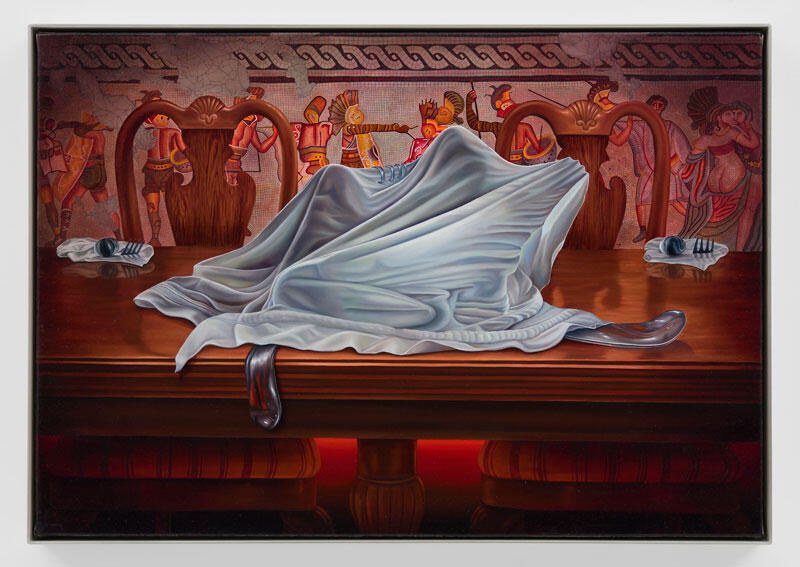 Marisa Adesman
Anat Ebgi
24 July – 11 September
The St. Louis-based painter Marisa Adesman presents 'Forklore', her first solo exhibition with Anat Ebgi in Los Angeles. In a suite of seven new paintings (all works 2021), the artist pictures the secret, sinister lives of cutlery: spindly forks contorting in the dead of the night, their tines flaying out like witches' fingers in Taking the Edge Off or ominously rising through a black marble kitchen counter while flames abound in Counterpoints. In some instances, these rambunctious utensils are found under the tablecloth, wrapped around each other in an orgiastic mess, likely in coitus (All's Fair …). The works are humorous, dark and incredibly enjoyable to look at, not least because Adesman's brand of neo-surrealism is both clever and salacious, while her masterful draftsmanship and profound attention to detail make her tableaux all the more mesmerizing.
Going Away Present
Kristina Kite Gallery
24 July – 21 August
Bruce Hainley, Los Angeles's favourite art critic and flâneur, is leaving his beloved city to take a post at Rice University in Houston. As a friendly send off – as the title of the show suggests ('The Going Away Present') – gallerist Kristina Kite and art critic Sarah Lehrer-Graiwer have organized a massive group exhibition to celebrate Hainley's influence on art discourse for the past 25 years in the City of Angels. With 49 participating artists – including Kelly Akashi, Gary Indiana, Wayne Koestenbaum, Lisa Lapinski, Laura Owens, Kenneth Tam and John Waters – the show feels both nostalgic and forward thinking, which is to say it gives off a great queer 1990s vibe that feels feverishly contemporary.
Esteban Jefferson
Tanya Leighton
17 July – 14 August
At Tanya Leighton, New York-based artist Esteban Jefferson presents a selection of works from his series 'Petit Palais' (2019–ongoing) – beautifully rendered compositions that depict the reception area inside the Beaux-Arts rotunda of the Petit Palais Museum in Paris. Marked by two sculptural busts of Black subjects located behind the reception desk in the entrance – as if only tangentially part of the museum's collection – the scene is meticulously re-created by Jefferson, who brings into focus these peripheral works while blurring out the surroundings: museum attendants, visitors, counters, computers, etc. In this recent iteration, however, Jefferson forgoes his use of paint and canvas, drafting a selection of works on paper that sees these busts rendered in deep black and their environment faintly drawn in pencil – a ghost image of the space itself. The drawings are tacked to the wall in a grid-like formation, lending the display a gritty look that contrasts starkly with the ethereal, washed-out scenes of Jefferson's paintings. Here, the drawings are simple and raw, almost aggressively stripping out the mundane and loudly calling attention to these objects as valuable artworks – not marginal, decorative pieces reminiscent of a colonial past.
Rakeem Cunningham
Ochi Projects
26 June – 7 August
Rakeem Cunningham's 'Hero', the multimedia artist's first solo exhibition with Ochi Projects, is an intimate examination of queer discovery in the wake of idolizing and identifying with 'heroes' that we might not look like or fully exemplify. In a series of images, Cunningham photographs himself in cosplay, dressing up in these queer fabulations of the 'superhero'. Clad in polyester fabrics and brandishing handmade weapons, he occasionally casts his gaze at the viewer. The large-scale installation Heroes Catch the Holy Ghost (all works 2021) takes up much of the back wall of the gallery. Presumably acting as a shrine to Cunningham's pre-adolescent self, the work reminded me of the door of my own childhood bedroom, which I plastered with posters of album covers and cut out cereal boxes. Here, Cunningham covers the wall with images of Manga anime (Dragon Ball Z is the only reference I can identify with confidence) along with other childhood remnants, including a few action figures, as well as various fabrics and costumes, to create a world of its own – and a reflection of the artist's complex persona.