With its 2020 edition held only online, and its 2021 edition delayed until September to allow the global vaccination program to take effect (at least in some countries) and global travel restrictions to be loosened, the 51st iteration of Art Basel in Basel has already overcome challenges. The second of Art Basel's fairs to happen in person since the pandemic hit (the first was Art Basel in Hong Kong in May 2021), the event opened amid questions: Would dealers be able to make it? Would collectors be deterred by the challenges of travel and complex safety measures? Masks are required for all visitors, in addition to a negative test result or vaccine proof, which, due to the shift in Switzerland's travel protocols, those who received the Astra-Zeneca vaccine outside the European Union were only able to obtain at the eleventh hour.In the fair's opening press conference, Art Basel's global director, Marc Spiegler, voiced his appreciation for the galleries that made the trip "despite unprecedented challenges," and noted the changes the fair had made to pull off this in-person edition. Even given all those difficulties, collectors seemed to be enjoying being back to viewing art at Messeplatz at last. Crowds at Unlimited—Art Basel's sector for museum-sized works—ducked in and out of the baguette eaves of Urs Fischer's $3 million Untitled (Bread House) (2004–05), presented by Jeffrey Deitch, and ogled the peacefully sleeping male couple spooning in a car full of art in Elmgreen & Dragset's The Outsiders (2020), presented by Pace Gallery.The return of this annual staple of the art market, with a pre-pandemic-level lineup of 272 galleries (24 of which were making their first appearances on the Rhine)—plus a coterie of satellite fairs including Liste and Photo Basel—is proof that the world is opening up again, albeit in a changed form. Below, we share 10 booths that are highlights of this year's fair.
Statements Sector, Booth N3
With works by Diane Severin Nguyen
Diane Severin Nguyen, installation view in Bureau's booth at Art Basel, Basel, 2021. Courtesy of the artist and Bureau.A red Honda motorbike is stuck in the grip of a mechanical gate, its lights flashing in panic. From a window upstairs, a young girl watches the drama through yellow tulle curtains, pensively sipping juice through a straw, as laser shapes flicker across her face. She begins to sing a cover version of Simon & Garfunkel's "The Sound of Silence." At Bureau's similarly yellow-curtained booth, the focus is the first major video work from Diane Severin Nguyen, titled Tyrant Star (2019), available in an edition of five (plus one artist's proof) for $20,000. The work is set in contemporary Vietnam, leaping from the jungle to an orphanage over its three chapters.BureauView Slideshow3 ImagesBureau is also presenting several new photographs by the young American artist, who works between Los Angeles and New York and just debuted her second video work, IF REVOLUTION IS A SICKNESS (2021), at the latter's SculptureCenter. These dark, sci-fi shots of sculptural constructions created in the artist's studio feature gluey, defamiliarized substances shot in sensuous light, and are priced at $6,000 or $7,000 depending on size.
Galleries Sector, Booth K14
With works by General Idea, ​​Liam Gillick, Gillian Wearing, and Rebecca Warren
Installation view of Maureen Paley's booth at Art Basel, Basel, 2021. Photo by Mark Blower. Courtesy of Maureen Paley.A wall work of powder-coated aluminium bars in yellow, pink, purple, and red points the viewer's eye toward Liam Gillick's corner of Maureen Paley's booth, where a monochrome wall vinyl work commands: "Cadence!" This medieval woodcut-style depiction of impaled, robed hordes clambering over one another to safety—apparently a warning against overproduction and consumption—can be reproduced at any size, the gallery explained, and is available for $55,000. Its partner piece, Cadence Channelled is on sale for $70,000.Maureen PaleyView Slideshow2 ImagesAlongside a very topical Gillian Wearing sculpture of a medical mask with a protruding, lifelike nose and mouth, and a large, tactile standing bronze by Rebecca Warren that sold for £130,000 ($178,000), sits a small piece by the collective General Idea, which sold at £15,000 ($20,500). The dark little photo of a dewy plastic hand in the night air, The Hand of the Spirit (1975), represents the pioneering Canadian group's interest in self-mythologization—and contrasts strongly with their work in the fair's Unlimited section, where Paley, Mai 36 Galerie, Mitchell-Innes & Nash, and Esther Schipper are presenting AIDS Cross (1991/2021). The five-panel work, riffing on Robert Indiana's LOVE Cross (1967), was originally conceived in 1991 during the height of the AIDS crisis, but had remained unrealized due to the deaths of members Felix Partz and Jorge Zontal.
Cabinet
Galleries Sector, Booth L13
With works by Caspar Heinemann, Contemporary Art Writing Daily, Cosey Fanni Tutti, Diamond Stingily, Ed Atkins, Ghislaine Leung, Gili Tal, Gillian Carnegie, Klein, Lee "Scratch" Perry, Lily van der Stokker, Marc Camille Chaimowicz, Mark Leckey, Pierre Guyotat, and Wu Tsang
Installation view of Cabinet's booth at Art Basel, Basel, 2021. Courtesy of Cabinet.There is a darkly youthful feeling to London gallery Cabinet's booth. Perhaps it's the interlocking foam floor tiles in red and blue—a work titled Mixed Sports (2021) by Ghislaine Leung that, per the gallery, designates a "proportional central square in complementary colors." Or perhaps it's the teenage-sized sports-goth mannequins in custom-tailored Adidas that loiter around in Mark Leckey's installation and film Costume Design and Bridge Fall from O Magic Power of Bleakness (2021). This excerpt from his impactful film shown at Tate Britain in 2019 is priced at £60,000 ($82,000). Three noticeboard frames are filled with Ed Atkins works, titled Children(Frame 1–3), respectively. Each contains just over 100 biro-filled Post-it notes. Some notes contain meticulous drawings—eyeballs pulled apart and weird teddy bears; others are rougher, stating, in all caps, "PASTA." Gallerist Andrew Wheatley explained that the notes were executed over breakfast and slipped into his daughter's lunchboxes, but that "the surrealist imagery relates to his film works."Diamond Stingily's works feature in several other booths (including Isabella Bortolozzi Galerie, for instance, and Queer Thoughts in the Statements sector), but Cabinet—which has an exhibition by the American artist and poet on view currently in London—is showing 7 (2021), which spells the titular number in a huge drape of synthetic hair. The gallery is also showing two pieces from Stingily's "Elephant Memory" series, where the same black extensions dangle, tangled in steel chains and hooks.
neugerriemschneider
Galleries Sector, Booth K7
With works by Olafur Eliasson, Ai Weiwei, Rirkrit Tiravanija, and James Benning
Installation view of neugerriemschneider's booth at Art Basel, Basel, 2021. Photo © Sebastiano Pellion. Courtesy of neugerriemschneider.The environment is collapsing, the human-made structures we've relied on are breaking, and a global pandemic is still splitting the world. After the last two years, we likely don't need any more reminders of precarity. And yet neugerriemschneider's beautifully curated booth is here to offer them anyway. From the early Olafur Eliasson work Moss room (1994), where a niched enclave in the booth is covered completely with moss; to the ominous black murano glass chandelier by Ai Weiwei; to Rirkrit Tiravanija's bonsai plant, which sits on a mirrored pedestal opposite a ghostly white, polyamide version of itself, there is plenty here to remind us of what is—and could still be—lost. James Benning's crates of earth from the American South, dotted around the booth, nod to the artist's film project in the Unlimited sector, PLACE (2020), also presented by neugerriemschneider.
Galleries Sector, Booth R6
With works by Doug Aitken, Liz Larner, Theaster Gates, Elliott Hundley, Glenn Ligon, Marilyn Minter, Gillian Wearing, Wolfgang Tillmans, Raymond Pettibon, Catherine Opie, Lari Pittman, Sue Williams, Jack Pierson, and Daniel Richter
Installation view of Regen Projects' booth at Art Basel, Basel, 2021. Photo by Photo Service at Art Basel. Courtesy of Regen Projects.Many artists have changed their practices due to international lockdowns, some out of necessity, and some out of desire. Gillian Wearing, the Turner Prize–winning Young British Artist, is best known for her photography and video work, so naturally, during the pandemic, she began painting. Here, Regen Projects is showing My hand after Velazquez (2021): a still life of a vase of flowers, the pink rose at its center almost dropping off its stem, and a hand sneaking onto the table (the canvas is priced at £75,000, or about $102,000).Regen ProjectsView Slideshow4 ImagesDoug Aitken, meanwhile, has begun working with fabric in these uncertain times, ripping up clothes to play with them. His never-before-seen flag work quotes Joan Didion's 1979 book The White Album and hangs the height of the booth walls. The work, which describes the sensation of over-saturation of information, "feels particularly timely," commented gallery director Stephanie Dudzinski. Nearby, a column of spurting dirt surges out of the center of a dirty grid in Wolfgang Tillmans's photograph Concrete Column III (2021), a brand-new work that will be included in his solo show opening at the L.A. gallery in November. Several ceramic asteroid works by Liz Larner, priced between $100,000 and $120,000 apiece, finish out this neatly rounded presentation.
Feature Sector, Booth T11
With works by Alison Knowles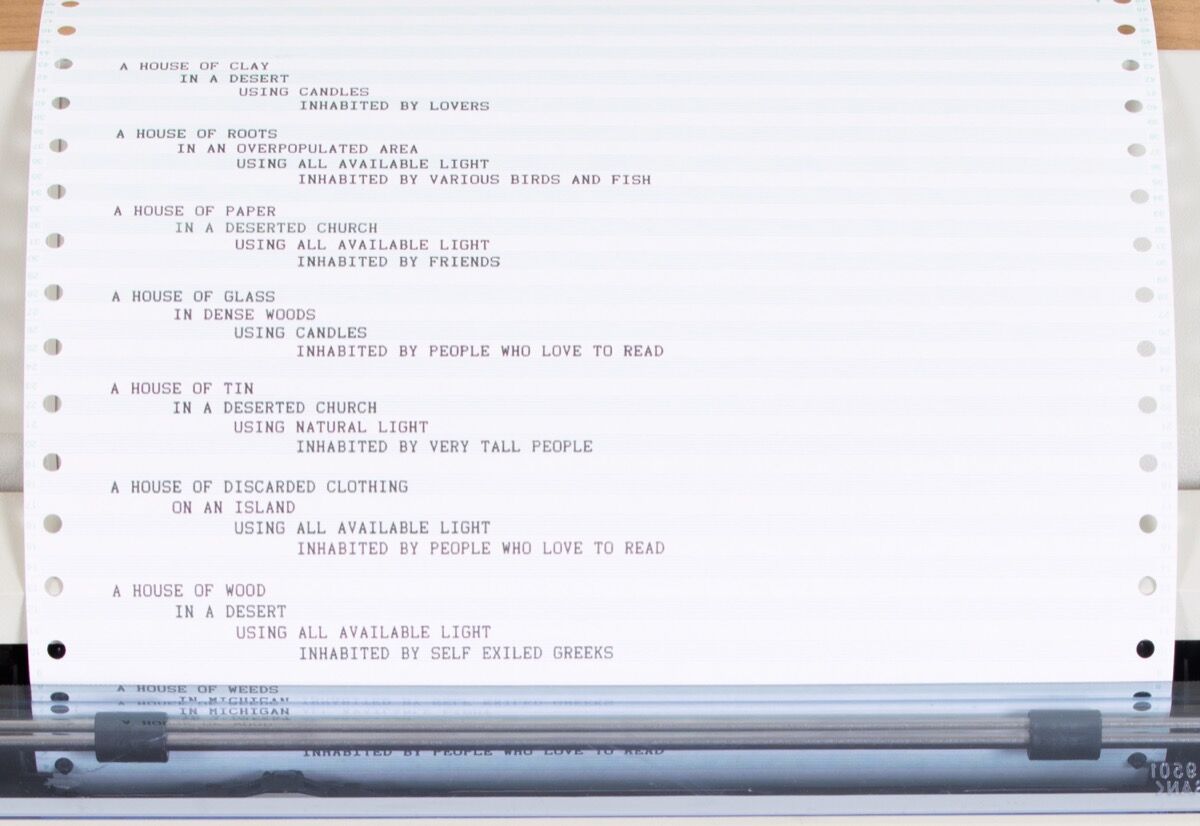 Alison Knowles, detail of The House of Dust Edition, 1967. Photo by Jason Mandella. Courtesy of the artist and James Fuentes.In shocking contrast to the busy walls elsewhere, James Fuentes's booth is almost bare, inhabited only by a Dot Matrix printer in the center of the space that, as if by magic, spits out a line of poetry onto perforated paper every five seconds. This generative project by Fluxus artist Alison Knowles (who made a splash at Art Basel in Basel's 2016 edition with a performance of her 1962 work Making A Salad) is one of the earliest computerized poems. Each stanza consists of "a house of" followed by a randomized sequence of materials, situations, or group of inhabitants. It's a landmark work in algorithmic text production, an area that has had a huge impact in both the art world and our everyday lives—the chance of coincidence meeting technology's determinism.James FuentesView Slideshow2 ImagesThe odds of the poem being repeated are very, very slim, according to the gallery representative I spoke to, who had been adjusting the speed of printing to suit the mood of the fair. "I slowed it down to every 45 seconds this afternoon," the representative said on Tuesday. "I thought the machine needed a little rest." It was only the first day of VIP previews.
Galleries Sector, Booth S9
With works by Asunción Molinos Gordo, Ana Prata, Sara Ramo, Elena del Rivero, Alvaro Urbano, Teresa Solar, Mateo López, Jose Dávila, and Donna Huanca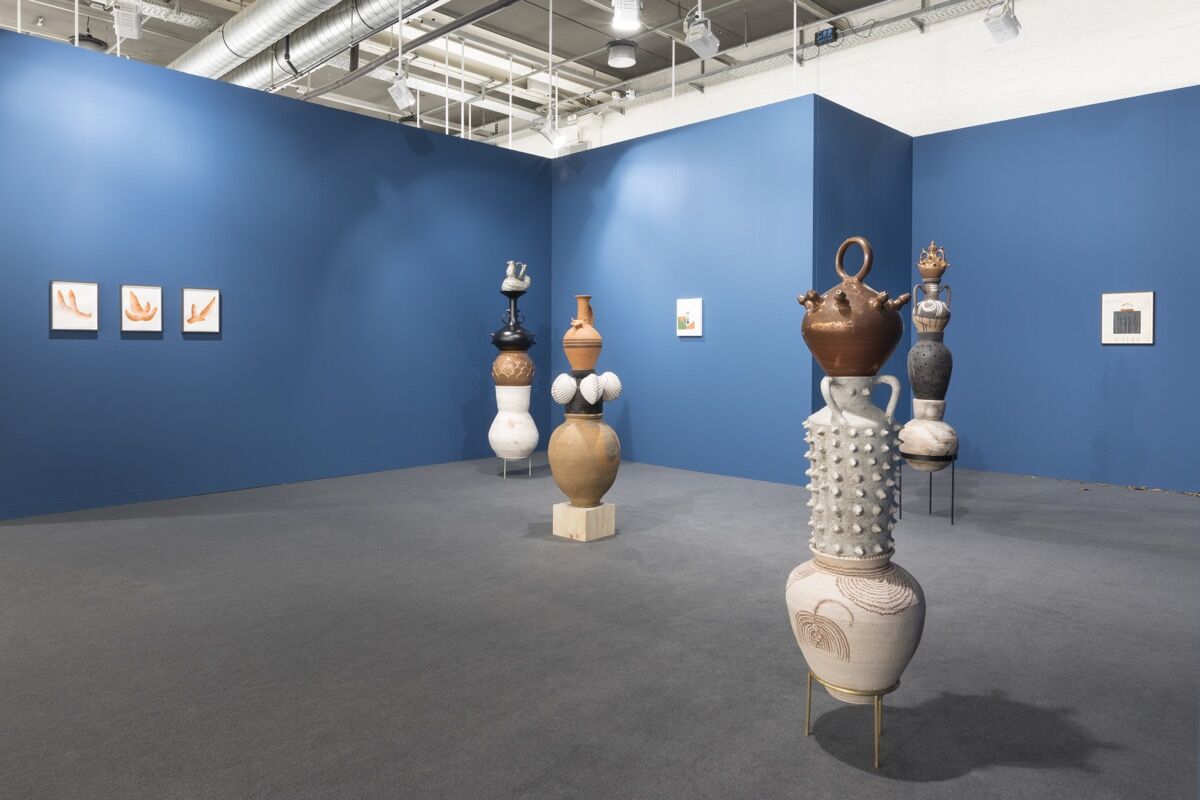 Installation view of Travesia Cuatro's booth at Art Basel, Basel, 2021. Courtesy of Travesia Cuatro.Spanish artist Asunción Molinos Gordo is interested in the culture of farming, and the small and medium food producers that carry it out. It is this interest that led her to water: transporting it, storing it, consuming it. Her works, which dominate Travesia Cuatro's royal blue–hued booth, are a series of ceramic collages: stacked water vessels made in collaboration with three workshops in Manises, Spain, where Levantine ceramic techniques, developed during the High Middle Ages, have been preserved for centuries. Each sculpture was priced at €30,000 ($35,000), and midway through the first preview day, about half the booth had already sold, including one Gordo sculpture going to Pérez Art Museum Miami. A small fabric collage with acrylic by Sara Ramo was priced at $15,000, as was a new beaded sunset on vintage accounting paper, #55 Domestic Landscape (2021), by Spanish artist Elena Del Rivero.
Galleries Sector, Booth P15
With works by Cho Yong-Ik, Chou Yu-Cheng, Ho Tzu Nyen, Brook Hsu, Liu Xiaohui, Ellen Pau, Wong Ping, Yu Ji, and Yuan Yuan
Installation view of Edouard Malingue Gallery's booth at Art Basel, Basel, 2021. Photo by Andrea Rossetti. Courtesy of Edouard Malingue Gallery.Edouard Malingue Gallery has been a mainstay of Art Basel in Hong Kong over the last decade, and so, with his gallery's first appearance at the Basel edition, the gallerist sought to bring works by his roster of artists from Asia and the Asian diaspora into greater contact with European collectors. The booth is dominated by the unnerving wonky tables of realistically sculpted cauliflowers and glasses of green liquid in Forager – lunch (2020) by prominent Chinese artist Yu Ji (who also co-founded the experimental project space AM Art Space). An energetic painting by Liu Xiaohui, Untitled – The Movement of Wiping (2017–20), which sold for $45,000, features a streamlined female figure at work cleaning glass, with broad geometric lines showing her transition across the pane. Malingue is also showing the only virtual-reality work I saw for sale at the fair: an alphabetical journey through virtual objects, R for Resonance (2019), part of Ho Tzu Nyen's project "The Critical Dictionary of Southeast Asia," which recounts the development of the gong. One edition of the VR piece sold for $45,000 on the first day of previews.
Statements Sector, Booth N2
With works by Rose B. Simpson
Jessica SilvermanView Slideshow3 ImagesAnother calming sculptural face peeks out from the corner of the booth: Simpson insisted these talismanic presences be here to watch over the presentation, even fabricating an extra one when she realized the booth would have one more corner than expected. The spirits were clearly helping, with 7 out of the 10 works sold at the end of the first day of previews, and a few works being held back to ensure institutional interest is met (a representative from the Guggenheim had just left the booth when I arrived). "As a gallerist, I wanted to bring Rose's work here because I think Europeans aren't as aware of Native American cultures," Silverman explained. "I wanted to be a conduit."
Rose B. Simpson, installation view in Jessica Silverman's booth at Art Basel, Basel, 2021. Photo by Mark Blower. Courtesy of the artist and Jessica Silverman.If the hordes of people at the fair are too much, the calm, all-seeing humanoids in Jessica Silverman's booth are a tonic. The 10 ceramic sculptures here are all by Rose B. Simpson, who is making her European debut at the fair and describes her works as "androgynous empaths." Syncing 1 and Syncing A (both 2021), for example—both busts with elongated necks—bring together three different types of clay, a symbolic union between people across the globe; their titles, featuring a number and a letter, are intended to create a parity between the two. Often, the artist uses a layering effect by throwing clay repeatedly on the diagonal until it's very thin—what she calls a "slap-slab" technique—as well as a very sparing use of glaze. Informed by Simpson's Indigenous upbringing in a pueblo outside of Santa Fe, New Mexico, the works also include twine and leather in the form of necklaces.
Galleries Sector, Booth A6
With works by Lucas Samaras, Claes Oldenburg & Coosje van Bruggen, Robert Mangold, Chuck Close, Thomas Nozkowski, Alexander Calder, Richard Pousette-Dart, Barbara Hepworth, Arlene Shechet, Kiki Smith, Lynda Benglis, Robert Irwin, Yoshitomo Nara, Richard Tuttle, Zhang Xiaogang, Lee Ufan, Henry Moore, Roberto Matta, Julian Schnabel, Ellsworth Kelly, teamLab, Li Songsong, Trevor Paglen, Yin Xiuzhen, Joel Shapiro, Jeff Koons, Latifa Echakhch, Robert Nava, Loie Hollowell, Fred Wilson, Robert Longo, Pablo Picasso, Nigel Cooke, Kun-yong Lee, Wifredo Lam, Torkwase Dyson, Mary Corse, Sam Gilliam, and Jules de Balincourt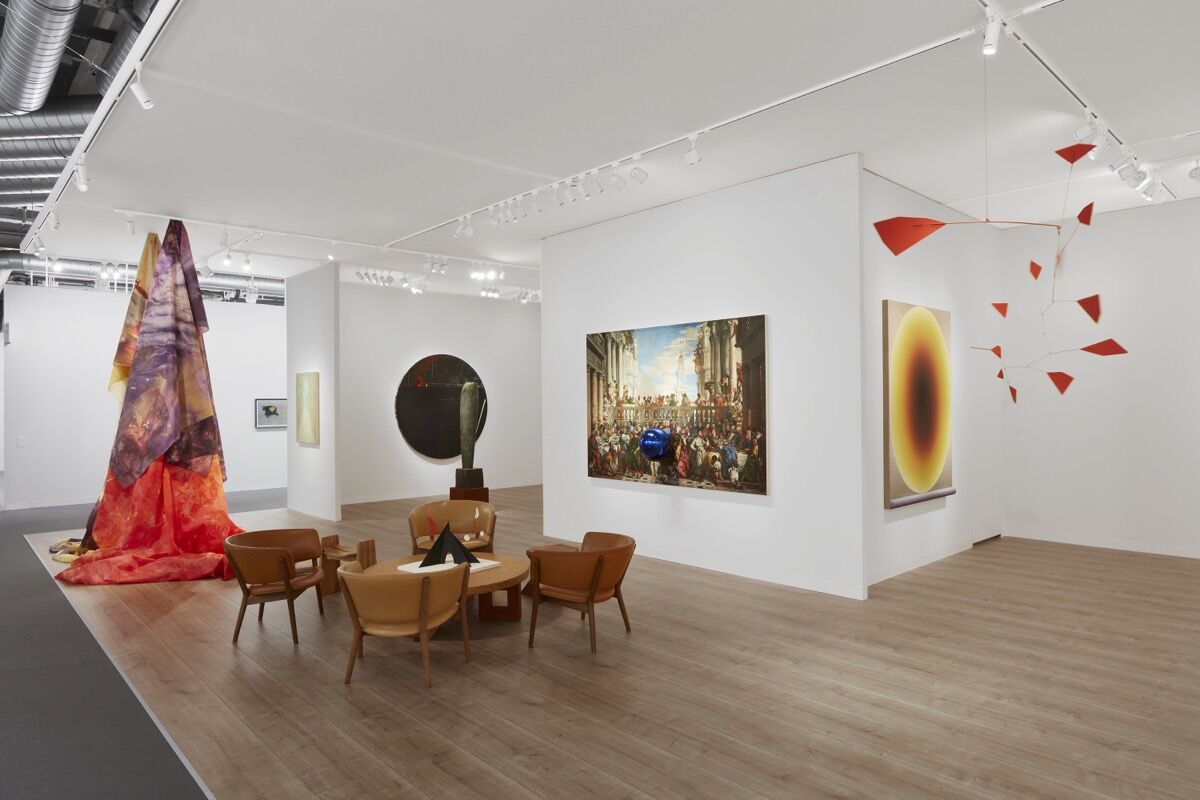 Installation view of Pace Gallery's booth at Art Basel, 2021. Courtesy of Pace Gallery.Just two weeks before Art Basel in Basel opened, the Robert E. Lee monument in Richmond, Virginia, was finally removed. The equestrian statue, which became a site of protest during the Black Lives Matter demonstrations last year, is the subject of a Richard Longo charcoal drawing, the layers of anger-fueled graffiti bursting through in photorealistic monochrome. It's one of six works by Longo depicting current events that Pace is showing at the fair—all have sold to private collections for $90,000 apiece.
Pace GalleryView Slideshow4 ImagesThe booth seemed to be almost sold out by the end of the first day, with a Jeff Koons gazing ball painting selling for around $2 million, and Barbara Hepworth's Single Form (Eikon) (1937–38, cast 1963)—a smooth, totem-like bronze sculpture—going for $1.2 million. By day two, the Hepworth was standing next to a newly hung Roberto Matta, whose monumental painting L'homme descend du signe (1975) is also being shown by Pace in the fair's Unlimited sector. In fact, as Amelia Redgrift, Pace's chief communications and marketing officer, explained, the gallery was selling far beyond expectations, and works that would usually have been replaced once sold were still hanging on the walls. Here's hoping that the rather gorgeous Loie Hollowell painting Yellow Brain (2021), with a dark throbbing lozenge at its center and a vertiginous lip of violet on the rim, sticks around until the end of the fair—it, too, sold on opening day, for $450,000.